Weekly Announcements 8/1/22
Theme
Let Us Exalt His Name Together
Sermon
"Fighting for the Family"
*CONVOCATION UPDATE*
The deadline to purchase Convocation meals has been extended to August 7th
*Heating Campaign
Balance Due Date: August 7, 2022
*GOHAOC Holy Convocation August 25th - 28th, 2022
When you register for Holy Convocation, there's a space that asks for church affiliation. Please fill in this space with Word Formed Church.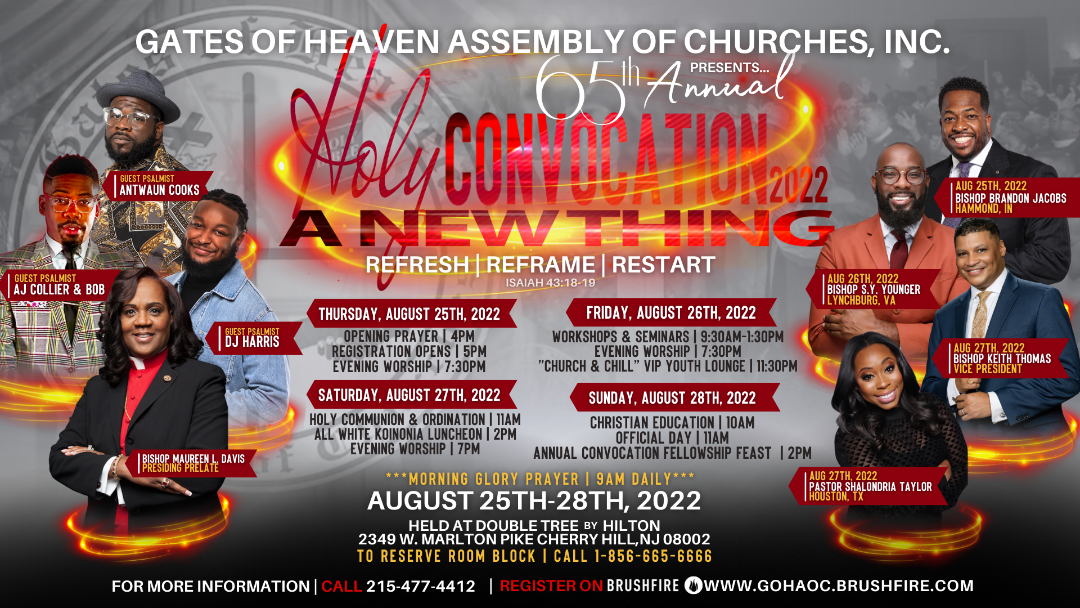 Fellowship Meals
**Meal Payments are due by August 7th
Saturday (All White) Koinonia Luncheon

Adults: $55
Children: $28 (13 and under)

Sunday Fellowship Dinner

Adults: $60
Children: $30 (13 and under)

Saturday & Sunday Meal (Package)
Clergy Attire
*Saturday*
Holy Communion and Ordination Service (11:00am)
(Clergy) Choir Dress
(Members and Mothers) wear all white
(Congregation) wear all white
*Sunday*
Official Day Service (11:00am)
(Clergy) Civic
(Elders, Deacons/Deaconess) Civic with GOHAOC Stole
(Mothers) Black
National Youth Department (ages 13-25)
Backdrop Art Challenge
Showcase your creative gifts
Submissions due: Tuesday, July 5th
Email to: gohaoc.youthdepartment@gmail.com
Church & Chill: VIP Lounge - Friday August 26th (following evening service)
Fellowship, food, games & prizes; relaxed dress
Additional guests who are not registered can attend for $15
Met Gala (Saturday night service)
Wear your Sunday's best outfit inspired by this year's theme: Refresh, Reframe, Restart
Walk the red carpet (photo op)
VIP seating
Prayer and Fast Days
Tuesday, August 16th
Wednesday, August 17th
Thursday, August 18th
Convocation Mass Choir Rehearsal
Open Door Mission True Light Church
401 N. 52nd Street
Wednesday, August 3rd (7:15-8:30pm)
Wednesday, August 17th (7:15-8:30pm)
Saturday, August 20th (11:00am-1:00pm)
Attire
Ladies: skirt/dress
Men: pants
Wednesday - August 3rd
Zoom Bible Study 7:00pm
Elder Stephanie Webb
Meeting ID: 836 0838 8929 Passcode: 950298
Thursday - August 4th
Intercessory Prayer 7:00pm (Sanctuary).
Please use Foss Street entrance.
All are welcome.
Sunday - August 7th
Prayer: 11:00am
Worship Service: 11:30am
Masks required